Jurassic World: Dominion Dominates Fandom Wikis - The Loop
Play Sound
Son of Kong is a 2022 American monster film directed by Adam Wingard, who directed Godzilla vs. Kong. A sequel to Godzilla vs. Kong, it is the 13th film in the King Kong franchise, and the fifth film in Legendary's MonsterVerse. The film stars Dan Stevens, Andy Serkis, Woody Harrelson, J.K. Simmons, William Hurt and Topher Grace. In the film, Apex Cybernetics engineer Ernest Denham is on the run from the government. He tags along a few friends along, but a tropical storm swoops them into Skull Island, where they meet and have an adventure with a descendant of Kong. The film is dedicated to William Hurt, who passed away two months after filming wrapped.
After the success of Godzilla vs. Kong, #ContinuetheMonsterVerse went trending, with director Adam Wingard returning to direct the sequel. He joined with writers, Simon Barrett, who worked with Adam Wingard on several projects, Max Borenstein, who worked every other MonsterVerse movies before, and Chris Terrio, who worked on Batman v Superman: Dawn of Justice, Justice League and its sequels. Principal photography began in September 2021, and wrapped in January 2022.
Son of Kong was theatrically released on December 22, 2022. It generally had more mixed reception, with praise to its visual effects, action sequences, cinematography, plot and the actors who play the characters, but was criticized for its pacing, tone, the characters in general and its premise being less about the "Son" of Kong. It was an underwhelming success, with it grossing $379.2 million, going past the break-even point of $350 million, and made it the lowest grossing film of the MonsterVerse, until The Unbelievable Varan. Due to it under-performing below the studio's expectations however, a sequel that was supposed to be released in 2027 was cancelled, and the MonsterVerse Godzilla Prequel Trilogy was revealed, with the first film being released on August 11, 2023. A stand-alone sequel, Rodan: The Fire Demon was released in December 26, 2025.
Plot
Monarch puts together a team to track down any Apex members involved in the creation of Mechagodzilla. One of them was Ernest Denham, who served as a coder for the Mechagodzilla's AI. Denham rushed his stuff and left his wife with a note, that he was leaving the place for a while for a trip with his friends. As he rushed down the highway, a SWAT van went by him. Denham, thinking he escaped, slowed down to the standard freeway speed. However, the van made a U-Turn and started chasing Denham. Denham called his friend, Peter Englehorn, to prepare the ship to escape. Englehorn complied and started to ready the boat. During the highway chase, Officer Theodore Rossius ordered back-up to get and chase after Denham.
Englehorn's friends, Carl C. Cooper and Jason McGarvey, wanted to tag along on this adventure. They told them that staying home was very boring, and that they told their work bosses that they'll be taking a break for a while. Englehorn welcomed them in, with Denham rushing in. Denham barely made the ship, before the men could reach them. The SWAT team tried gunning the ship and breaking its engine, but then it was unaffected by the bullets. And so, the four managed to escape. However, the bullets broke threw the gas tank, which allowed a trail to be followed through and left the boat that Denham and his crew stranded next to the now destroyed Skull Island, with a hurricane ensuing it. They started to get pulled into the island via its waves and wind, in which Denham and the crew took shelter inside and tried to steer it through the island and get in safely. The harsh lightning and wind knocked the boat and its crew out of commission. Once they woke up on shore, the island was still being flooded by rain, wind and lightning. They grabbed their ammunition and headed out in search for shelter for warmth and hiding.
They found a cave where it lead to an underground tunnel system, open from one of the bombs in 1973. When they went in deeper, then found a giant ape incased in ice, measuring at 25 meters tall. They used a flamethrower to melt the ice, and a rocket launcher to break the ice. The ape fell on his side, still unconscious. Denham just wanted to leave the ape alone, and the rest of the crew followed, but not before McGarvey injected the ape with a dose of caffeine for an attempt to wake the ape up. As they go in deeper into the cave, they feel a solid amount of force pushing down on them. Cooper says that gravity is pushing them harder while they continue to go deeper into the cave. But then a pack of Skullcrawlers attempted to chase them, but then the ape grabbed them and hurled some of them into a ravine and breaking another's jaw, as well as crushing one's head with a giant boulder.
During all this, Officer Rossius used the ships that withstood the storm and swarmed the rainy island. They told the higher-up officials that they will capture them for interrogation. But just as he made the call, a swarm of giant bats arrived at the scene. The military attempted to shoot them down, with many of them being eaten. Rossius ordered to fall back, with 18 people dead and dozens more injured. Meanwhile, the gang on the island followed the ape as they reached a deep ravine with no bridge to the other side. Denham told the gang it looked like Kong but couldn't tell very much because it was so dark and so big. Another swarm of giant bats appeared but the ape swatted them away. They got on the ape as, through a flashlight, saw that Kong found a vine and decided to use it as a rope to swing across. They held and saw somewhat of a light. When the light shined on the ape, Denham now finally saw that it was a Kong.
Kong opened the cave door and the light dimmed down all of a sudden. It was because there was a dark cloud which blocked out what Denham called "The Moon of this Cave." Many swarms of bats appeared, with Kong easily swatting at them, but occasionally missing. However, there was a new opponent in store for him. A Camazotz appears from the clouds, with another Camazotz following it. Kong tries to fight it off, but is quickly overpowered by the two and was forced to the ground. However, Kong grabbed a rocky pillar that was right next to him and bashed it on a Camazotz head, stumbling next to its partner.
After a lot of flying, ceiling dropping and crashing into walls, Kong manages to finally kill one by impaling it with a stone spike from the ceiling of the cave room. The remaining Camazotz intercepts it but Kong climbs a wall and jumps off the wall and lands a devastating blow to the head. The Camazotz retreated to an entrance by the appearance of a wormhole. Kong looked down at the hole and jumped down the hole, but not after grabbing Denham and the crew to jump into it. Kong braced them safely, while taking the blow from the wormhole. Denham and the crew fall into the dark Hollow Earth, with Cooper managing to grab a parachute from his bag and grab everyone, one-by-one. Kong landed a bit roughly on the Earth's floor but managed to shrug it off in no time. In there, the adult Kong is currently sleeping with the juvenile Kong going closer to it. However, a loud screech awakens the adult Kong, and Kong roars and lashes out. He notices the juvenile and notices no one else in the area, and so he takes him in. However, the Camazotz from the cave attacked the two, but with the strength of two Kongs, managed to defeat the remaining Camazotz.
Denham and the crew hijack a HEAV and get out of there. As they wave goodbye to little Kong, they fly back, crossing the military's ships with a big smile on their face. And the two Kongs are there together, in a father-and-son peace.
Main Credits
Director - Adam Wingard
Writers - Simon Barrett and Max Borenstein and Chris Terrio
Producers - Mary Parent, Alex Garcia, Thomas Tull, Jordan Vogt-Roberts and Chris Terrio
Executive Producers - Adam Wingard, Dan Lin, Roy Lee, Yoshimitsu Banno and Kenji Okuhira
Director of Photography - Amir Mokri
Production Designer - Tom Hammock
Visual Effects Supervisor - Peter Chiang
Film Editor - Richard Pearson
Music Composer - Brian Tyler
Cast
Dan Stevens as Ernest Denham
Andy Serkis as Little Kong
Woody Harrelson as Captain Peter Englehorn
J.K. Simmons as Carl C. Cooper
William Hurt as Officer Theodore Rossius (posthumous)
Topher Grace as Jason McGarvey
Production
After the success of Godzilla vs. Kong, #ContinuetheMonsterVerse went trending, with director Adam Wingard returning to direct the sequel. He joined with writers, Simon Barrett, who worked with Adam Wingard on several projects, Max Borenstein, who worked every other MonsterVerse movies before, and Chris Terrio, who worked on Batman v Superman: Dawn of Justice, Justice League and its 2 sequels. I was in production, with a working title "Son of Kong," which ironically ended up being the final title.
Wingard expressed his feelings towards Kong in Godzilla vs. Kong, saying as if "His race was being treated a tad bit unfairly," and promised the fans that the Kong in this film will get his moments to shine. Wingard had gotten much praise on his action sequences on Godzilla vs. Kong, but with the movie mostly revolving around action set-pieces in some dark places, Wingard had to make everything still visible clearly, unlike in the 2014 Godzilla. He took inspiration from the Hong Kong battle in Godzilla vs. Kong, having a "moon-like light ball" placed in the tunnel systems to the Hollow Earth, with the light even bouncing off of crystals as a little detail.
Music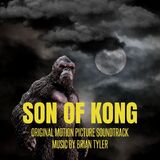 Brian Tyler composed the music for Son of Kong. While Henry Jackman's music for Kong: Skull Island was adventurous and explorer-themed, Tyler was told to make it "big and bombastic." He said how he was a fan of Kong since he was a child and wanted to bring him the best piece he could ever think of. He reflected on Jackman's music, as well as Tom Holkenborg's music from Godzilla vs. Kong, other pieces from his earlier filmography and earlier King Kong movies.
All tracks are written by Brian Tyler, except where noted. The score is also conducted by Tyler.
Son of Kong (Original Motion Picture Soundtrack)

| No. | Title | Length | Notes |
| --- | --- | --- | --- |
| 1 | "Prince Kong" | 2:33 | Written by Tom Holkenborg |
| 2 | "Tracker" | 5:19 | |
| 3 | "Tag Along" | 4:20 | |
| 4 | "Barely Made It" | 4:06 | |
| 5 | "Storm Cellar" | 6:08 | |
| 6 | "Dose of the Underground" | 6:37 | |
| 7 | "Hunting Like A Pack" | 5:07 | |
| 8 | "The Swarm Was Swarmed" | 5:35 | |
| 9 | "The Moon of This Cave" | 10:31 | |
| 10 | "Double Team" | 5:26 | |
| 11 | "Hollow Earth" | 3:48 | |
| 12 | "Nighttime is Over" | 7:53 | |
| 13 | "So Long, Farewell" | 2:49 | |
Total Runtime: 1:10:12
Release
Theatrical
Son of Kong was released on December 22, 2022, in IMAX, 3D, Dolby Cinema, RealD 3D, IMAX 3D, 4DX, and ScreenX formats by Warner Bros. Pictures. The film was released in ScreenX formats in some markets. In the United States, the film was given an PG-13 rating for "sequences of monster action, violence, and destruction." In December 19, 2022, advanced screenings were held for audiences ahead of the film's release.
Home Media
The film was released on Digital HD on February, 21, 2023 and released on DVD, Blu-ray, and 4K Ultra HD on March 12, 2023. The 4K release includes HDR10, HDR10+, Dolby Vision high dynamic range, and a Dolby Atmos soundtrack. Best Buy released a retail exclusive of its own as a 4K UHD Combo steelbook release. Domestically, the DVD release grossed $12.9 million and the Blu-ray release grossed $21.9 million, totaling $34.8 million in domestic video sales.
Reception
Box Office
Son of Kong grossed $114.4 million domestically, and $264.8 million in other territories, for a worldwide total of $379.2 million. While it is universally agreed that Son of Kong had a break-even point of $350 million, with all the marketing, printing and advertising budgets, other people speculated that the movie had a break-even point between $360-380 million. A minority group of people speculated that Son of Kong would have a break-even point of $410 million, however was quickly debunked. Due to the competition, especially with Shazam: Fury of the Gods and The Marvels, it performed below the studio's expectations, though, with projections showing at least $430 million.
Critical Reception
On Rotten Tomatoes, the film has an approval rating of 41% based on 386 reviews, with an average rating of 5.20/10. The site's critical consensus reads, "Son of Kong downgraded so much, with so many plot holes in its story, as well as lame and unlikable characters." On Metacritic, the film has a score of 51 out of 100 based on 53 critics, indicating "mixed or average reviews". Audiences polled by CinemaScore gave the film an average grade of "B+" on an A+ to F scale, tied with the first two solo Godzilla MonsterVerse installments and Kong: Skull Island.
Accolades
Award
Category
Recipients
Results
Saturn Awards
Best Action or Adventure Film
Son of Kong
Nominated
Best Special Effects
Peter Chiang, Katherine Renee Jones, Don Lee, Ken McGaugh
Nominated
Best Actor
Dan Stevens
Nominated
Jupiter Awards
Best International Film
Son of Kong
Nominated
People's Choice Awards
Action Movie of the Year
Son of Kong
Nominated
Action Movie Star of the Year
Dan Stevens
Won
Visual Effects Society Awards
Outstanding Visual Effects in a Photoreal Feature
Peter Chiang, Katherine Renee Jones, Don Lee, Ken McGaugh
Nominated
Golden Raspberry Awards
Worst Supporting Actor
Topher Grace
Nominated
Worst Prequel, Remake, Rip-off or Sequel
Son of Kong
Nominated
Cancelled Sequel
In March 2022, director Adam Wingard said that if this movie succeeded well in the box office, then a direct sequel would be made. Because of its underwhelming box office numbers, the sequel was cancelled, as other projects started to show up in the meantime. Instead, a stand-alone sequel, Rodan: The Fire Demon was released in December 26, 2025.